Most of the homes in Singapore is still using the circular fluorescent tube lamp for their homes. For those families who want to convert from the circular round fluorescent tube to LED version, this circular LED panel offer a simple and convenient way to convert your existing circular fluorescent lamp to a circular LED lighting.
Feature
Easy to replace, without changing your old lamp.
Do not require external LED driver or ballast.
Connect directly to 230Vac to light up the panel.
Suitable for all small, middle and large lamp replacement.
3 ring LED for intensity control (8 levels of brightness control).
LED Panel Ring Size
This LED panel comes together in 3 sizes suitable for any type of round lamp casing.

Smallest Ring (10W, Internal Diameter is 9mm, External Diameter is 16mm)
Middle Ring (18W, Internal Diameter is 13mm, External Diameter is 22.5mm)
Large Ring (24W, Internal Diameter is 16.5mm, External Diameter is 24mm)
The 3 rings can be individually be connected to 230Vac without the use of external driver or ballast. When they are fitted together, they can be wired up in such a way that you can control 8 different level of brightness with your lamp.
Easy to Convert your Old Lamp to LED
No Drilling of Holes
You do not have to do drilling of holes and securing the LED panel with screw.
Magnet Snap to Casing
Simply attached the magnet bases or standoff for the ceiling lamp. You can snap the LED panel directly to the ceiling lamp's metallic base.
No Need External LED Driver
This LED panel can be lighted up directly from a 230Vac power line. There is no need for additional LED driver or ballast.
Each circular LED panel can be individually lighted up for brightness control directly using 230Vac power line.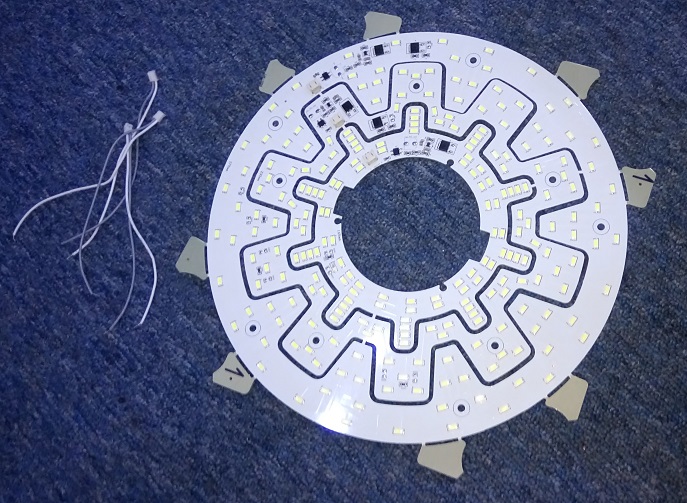 Purchase Replacement LED Panel
To purchase this LED replacement panel, or for further information, you can contact saveOne Pte. Ltd. in Singapore or Philippine from