Most of the home in Singapore uses a circular fluorescent tube for their lighting. The circular fluorescent tube uses a magnetic ballast to regulate the current flow. A starter is connected in parallel to the fluorescent tube which helps to start up the tube light.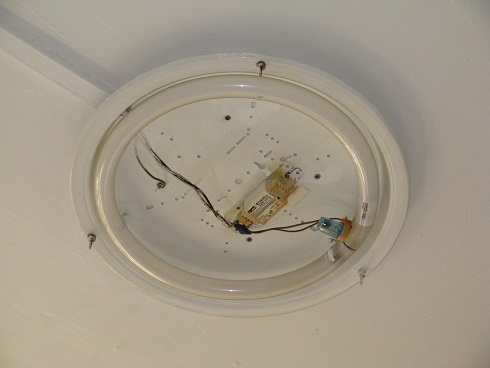 The magnetic ballast is an inductive load in nature. The inductive load will require more current from the power supply. It simply means more current is being pulled and pushed back from the supply. This is often known as power factor. While more current flowing does not translate to energy cost, the higher current flowing through the magnetic ballast do translate to a higher heat, and hence some energy lost. For air-conditional home/office, this also translates to energy cost, the additional effort to cool down the environment. Check out how hot your magnetic ballast can get after a few minutes of operation.
The starter helps to start up the tube light. You can easily observe it by the flickering light and also the clicking sound from the lighting when it starts up.
Using magnetic ballast fluorescent tube was energy saving compared to the incandescent bulb decades ago. However comparing to today's technology, the magnetic ballast is already outdated. To maximise the energy that you get out of your lamp, consider using an electronic ballast for your circular fluorescent tube. New technology in the fluorescent lighting is already on par with the LED lighting in terms of energy saving.
Electronic Ballast for Circular Fluorescent Tube
This electronic ballast uses electronic to control the driving of the circular fluorescent tube. It has many benefits compares to using a magnetic ballast.
Low power consumption. About 30-40% lesser.
Switch on light instantly with flicker.
Lower current, less heat generated.
Power Factor close to 1.0 (minimum current flow)
Light & Easy to install, only 2 wire.
Suitable for automation lighting control.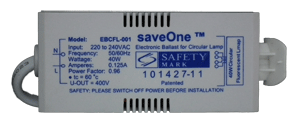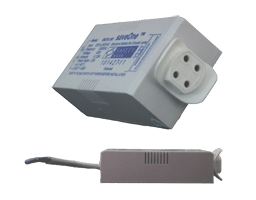 Electronic Ballast for Straight Fluorescent Tube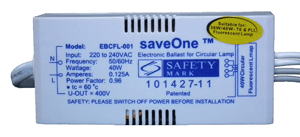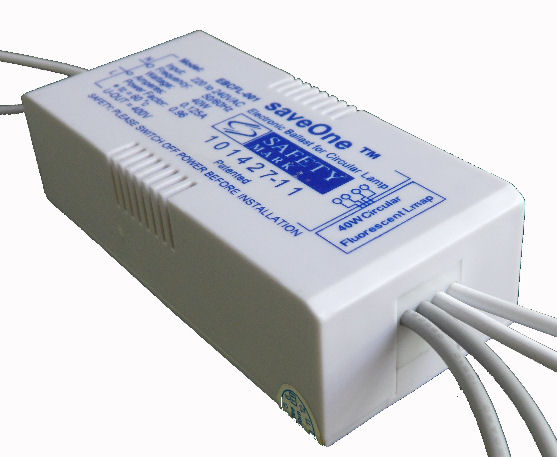 For further information regarding this product, you can also visit the following website,
Electronic ballast for round fluorescent tube
Available in major supermarket and hardware store in Singapore.
Get your electronic ballast for your circular fluorescent tube in Singapore or Philippine from

Number one energy saving products for offices building and homes.
Contact saveOne today.