Now let us welcome the new era of LED candle light bulb. The energy efficient candle bulb is finally here. 节能灯泡. This article introduces you the ultra low energy, lower power LED candle light bulb. If you are looking for candle light for hotel or hall area, please visit this page high power LED chandelier candle light bulb.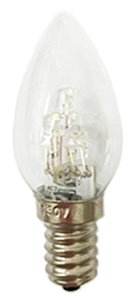 E12 LED candle light bulb
Candle Light Bulb has been around for decades since the electrical system. Lighting technology has been improving through history from wax candle to incandescent bulb, to fluorescent and today LED. Candle bulb is one of the few bulb types that has been struck at the incandescent era. Till today (2015), many households are still using the incandescent bulb for their altar's candle light.
Candle bulb is relatively small. There has been good effort to squeeze the fluorescent smaller, but attaining the incandescent E12 candle bulb size is near to impossible. Incandescent works by heating up a filament which will radiate light out. A filament is a small thin wire coil which can easily fit into the E12 candle bulb glass. The glass bulb is so small that even LED pose some challenges fitting into the small bulb.
We come a long way from using candle wax, to incandescent to LED. The following highlight the advantages in using LED light compare to using the old incandescent.
Candle wax has been the traditional way of lighting, then came the kerosene. Candle wax was then still a common light source on altar table, or on our romantic dinner table. The use of candle wax pose danger of catching a fire. Flame easily gets blown off from wind breeze. Cleaning up the wax mess is also troublesome. There is also storage necessary for more candles to be burn.
E12 Incandescent Candle Bulb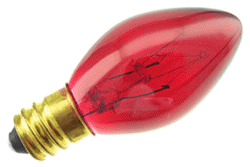 E12 Incandescent Light Bulb
The introduce of electric candle lighting with the E12 incandescent bulb had solved much of the inconvenient the candle wax has. The candle can now be lighted up for days, weeks, months, by a single candle light bulb. A Strong wind will not be able to put off your candle light and it is now much safer without the burning flame. No more mess, feathering away the dust on the bulb once in a blue moon. A great improvement to our lifestyle. But incandescent in today's context is really a turn-off. The only bulb that is still so outdated.
Why should you change to a more expensive LED candle bulb?
The answer is simple. Lower cost of maintenance.
An incandescent light bulb using 16-25W of energy just to heat up the filament to generate the small little candle light, barely enough illumination for reading. The heat generated pose a fire hazard, accidentally touching it can still burn our skin. Especially if you have playful children around, incandescent bulb can be dangerous. The high heat and current also have an effect on the lifespan of the bulb. The bulb holder stand also tends to oxidise easily, which can wear off the bulb filament faster. This is also why the bulb holder needs regular replacement.
The LED candle light bulb is much more superior than the incandescent, uses only 0.3W. This is a significant 50 to 80 times more energy efficient compared to an incandescent bulb. For a user who turns on the candle bulb 24 hours per day, 365 days a year, saving much more obvious.
Base on our current Singapore electricity tariff rate (Jan-Mar 2015) 23.29 cents per kWh, a 16W E12 incandescent candle bulb operating 24 hours for 365 days can easily contribute to $32.64/year. A 0.3W E12 LED candle bulb works out to be $0.61. This is about 53 times the saving in energy cost. Why should you pay more for the heat when you only need that little candle light? The higher the electricity tariff rate, the more you will save from this new LED bulb.
Yes, an E12 incandescent candle light bulb cost only about $0.80 to $1.00, which is much lower than the E12 LED candle light bulb which can cost from $5 to $10 each. If you factor in the cost of running the old E12 incandescent bulb, it is an obvious choice to switch over to the LED candle bulb. The cost of operating the bulb in a year is enough to buy you the expensive LED candle bulb.
The LED candle bulb does not generate any heat at all. How much heat can you expect from a 0.3W bulb? Safe to touch anytime. With less heat, less current, the LED bulb can last much much longer. Longer lifespan applies to your bulb holder as well.
LED candle bulb can also be available in a wide variety of colours. You can almost have any colour of light you like, besides the traditional warm white and red colour.
If you are still using the old E12 incandescent candle light bulb, my advice is to switch to this E12 LED candle light bulb immediately.
  CLICK  >>  I want my E12 LED Candle Bulb
Available color:
Cool-White Light (Clear Glass)
Warm-White Light (Clear Glass)
Red Light (Clear Glass)
Red Light (Red Glass)
This is how it looks like lighted up.
 
Features Comparison
E12 LED Candle Bulb
E12 Incandescent Bulb
Energy Saving
✔
only 0.3W

X
16 to 25W

Low Cost

X

✔

Low Heat

✔

X

Longer Life Span

✔

X

Faster ROI

✔

X
Safety

✔

X
  CLICK  >>  I want my E12 LED Candle Bulb
For ultra bright LED candle bulb, you can visit the high power LED chandelier bulb page for further details.